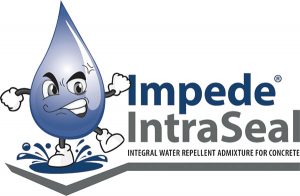 Impede® IntraSeal is a non-chloride, non-corrosive liquid water repellent admixture designed for use in ready mix concrete. Impede® IntraSeal provides resistance to water penetration by reacting with the cement to form chemical water repellency throughout the concrete structure.
The Benefits of Impede® IntraSeal:
Integral water-repelling admixture.
Formulated to be added during batching.
Reduces the need to re-seal every 3-5 years.
Promotes freeze-thaw and deicing chemical resistance.
Compatible with most other chemical admixtures.
Learn more at: